Darren Hardy is the publisher of Success Magazine and author of "Living Your Best Year Ever."
He also produced several videos, to encourage entrepreneurs to succeed in business.
In one of his videos he explains the 10 Guidelines To A Successful Online Business.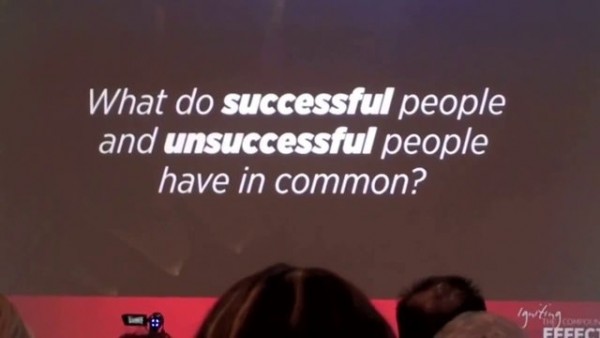 Here is a summary to his 10 Guidelines To A Successful Online Business:
1. Don't Think It—Ink It!
Here Darren Hardy mentions that in order for our goals to manifest itself we must write our goals down.
Otherwise, they're often lost in the shuffle and excitement of new problems, challenges, and decisions.
Try to eliminate  outside interruptions.Goals that are not written are merely fantasy.
They're like bullets without powder in the cartridge.
In order to succeed, making clear written goals is your starting point.

2. Suspend Reality
This is where we allow our brain to pretend it's only a game…Play in fantasy…
Ask yourself: what would I set out to accomplish?
Don't prejudge your ability.
Let your thoughts flow.
You're not committing to everything.
You're just brainstorming ideas.
3. Go Big
Set out your dream as lofty and high as your imagination can take you to.
Whatever the mind can conceive and believe, the mind can achieve it.
If you set little goals, you will achieve little goals.
If you set big goals, you can achieve big goals.
When you lack imagination, it's difficult to create a goal.
You have to dream and have an imagination to say, here is a big goal, now let's conquer it.
Ask and it'll be given to you…Seek and you will find it…Knock and it will be open to you.
Dream Big—Risk Big.
We're called for greatness.
Be the best you can possibly be.
Don't set your goals too low.
If you say to yourself, I don't need much.
Then you won't become much.
4. Speak In The Positive
Decide where you want to move towards, not away from and speak in those terms.
For ex: I am my ideal weight of 190 pounds by June 1st vs. I want to lose 20 pounds.
I have a positive net worth of a million dollars by August of next year vs. I want to get out of debt.
5. Stay In The I Am
Make statements in the present first person.
I am________________vs. I want_____________.
When you write a goal, your creative energy will focus on that goal.
Your creative power will go to work in producing what is declared.
6. Make Sure They Are "

Your

" Goals
Many people set goals they should have rather than they really want for themselves.
Don't let family, colleagues, or society's ideals or expectations dictate your ambitions.
If your written goals are not from your true heart or inner ambition, your creative spirit will not work
to produce them anyway.
All it will do is frustrate you and gives you the illusion that you're a failure.
7. Make Sure Your Goals Align With Your Values
Darren Hardy states that some goals are not worth going for at all.
Quote "Don't sacrifice your core values to pay for the acquisition of a promise less worthy."
Goals must fit your own values, standards and decisions.
If they do not meet your needs, you'll find it impossible to remain interested or involved with them at all.
Your core values are just as important for your large corporation as they are for you the individual.
Get your core values determined and they will be the guiding principle for every decision, project, or goal you go for.
8. Don't Be Afraid To Fight 
Find your fight ! Without a fight, we become fat, lazy and sedentary.
We lose purpose, passion, and vigor.
Everyone needs a worthy enemy.
For ex: Batman had the Joker….God has Satin.
Having a good enemy gives you a reason to fight.
It pushes you.
It challenges your skills, your character and resolve motivation.
Ask  yourself: what are we willing to fight for?
What do you see as an enemy in your industry, community etc.?
9. Abandon Limited Beliefs
Don't be constraint by the imaginary limited beliefs you might be keeping yourself tethered to.
10. Fear Not 
"Our deepest fear is not that we're inadequate but we're powerful beyond measure.
We're all meant to shine.
It's our light not our darkness that most frightens us.
As we are liberated from our  fears our presence automatically liberates others.
As we let our light shine, we unconsciously give others permission to do the same."
Quote by Marianne Williamson
"The Distance Between Your Dreams And Reality Is Called Action"
Darren Hardy
See More At http://success.com
I Hope this summary and video the 10 Guidelines To
A Successful Online Business were insightful.
Wishing everyone success with their dreams.
Dreams do become reality!
——————————————————————-
Online Marketing Is A T.E.A.M. Effort (Together Everyone Achieves More).
We Are A TEAM Of Professional Online Marketers
Dedicated To Training The Average Person
To Build A Lucrative Online Business.
If You Want To Work With A TEAM Of Professionals
Click Now On: