Have you ever attended an internet marketing training seminar?
I have attended several.
Some are rah-rah sessions for their company, their representatives and for signing new reps.
I have also been to one that was a total pitch fest.
Where several online marketers sell their wares.
If you haven't attended any, you should take the next opportunity to go to one.
There is nothing like sitting in an auditorium of like-minded people.
The energy and camaraderie is uplifting.
I have attended two training seminars with the Daily Marketing Coach program and Ann Sieg.
The events were well organized, with great training and interesting people.
I wanted to report on some of my biggest lessons from attending The Total Funnel Immersion training event.
First, the online marketing concepts were first class.
Starting from mindset, time management, goal setting, blogging and marketing.
I'm 110% committed to the success of my business no matter how much time, effort and sacrifice I have to make to grow my online business.
I know from my experiences as a teacher and a martial arts instructor – progress is about time and effort.
I do not manage time – everyone has 24 hours.
I can only manage myself, my habits and my daily actions.
I am committed to do the difficult and the least enjoyable task first – like blogging.
I find blogging and video creation to be my least enjoyable tasks.
Therefore, I will do those first twice a week, before I do the easy task or fun task.
I will make a daily list of necessary tasks and complete all or as many as I can for the day.
Another important training technique was to verbalize, date and commit openly to the group your goals and your future intentions.
I have written and dated short and long-term goals.
I'm committed to fulfill the requirements to become a certified Attraction Marketing Coach by August, 2013.
These are just a few commitments and realizations I made from attending the Total Funnel Immersion weekend seminar at Bloomington, Minnesota.
One of the intangible benefits of attending a training seminar are friends, networking and camaraderie that are developed.
I have attended several online business training programs.
Most of them fall short in the one-on-one personal attention department.
Or, the training they offer with individual attention is very expensive.
Ann Sieg has developed a powerful team of experienced professional online experts that help train the members of the daily marketing coach program and the total funnel immersion group.
I love how they work together, kid around with each other and create a family atmosphere.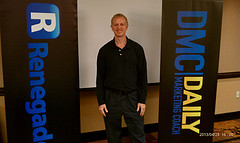 To be successful in business you must surround yourself with successful business people.
You must model successful business habits in your life.
When you apply their business mindset, their time management routines, and work diligently to accomplish your goals .
You will be on your path to success.
Proven Attraction Marketing Training Program
If you understand the power of working with seasoned professionals, supportive colleagues and a proven attraction marketing educational process.
This is the program for you!
Get More Info CLICK HERE Now!